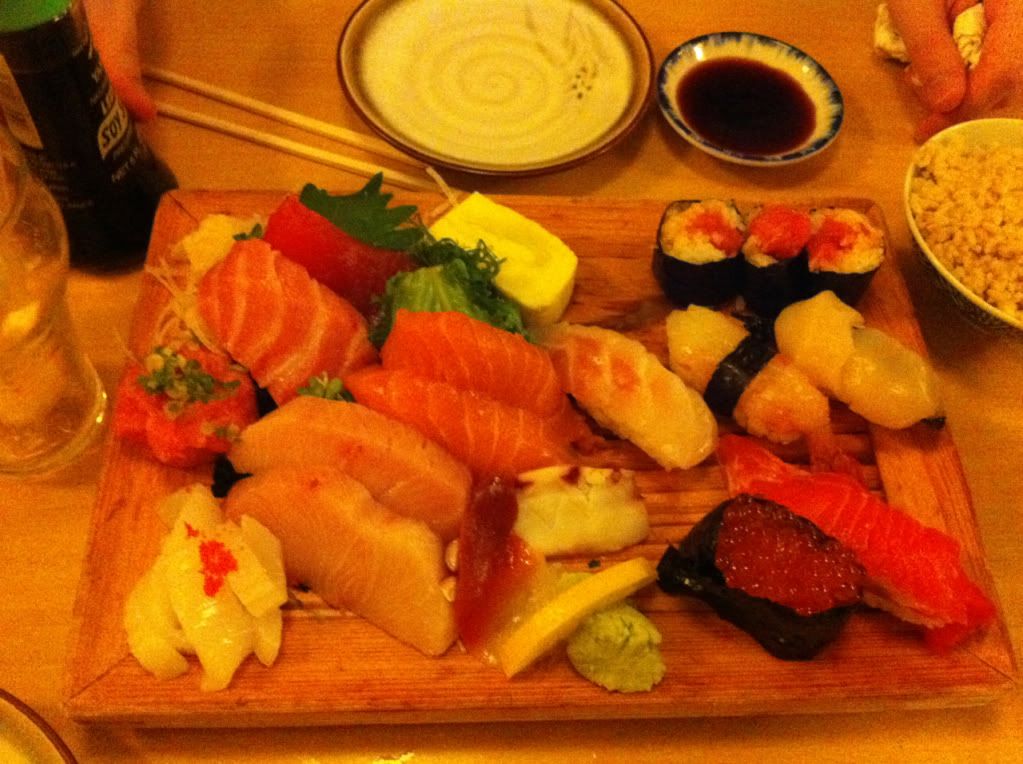 Public tastebud service announcement: the best fish in New York, hands down, is at
Tomoe Sushi
. it's a casual, little, no-reservations, AMEX and cash only joint that typically has a wait outdoors, but when you eat dinner as absurdly late as my counterpart and i tend to, you can squeeze in just before last call and get ridiculous salmon roe that's unlike anything you'll eat in a take-out plastic container, and likely for around the same price. i won't wait for a port-o-potty, i won't wait for carnival food, i wont wait the three seconds it takes the slow fuck in front of me walking up the stairs from the subway to actually start moving, but i will wait for this.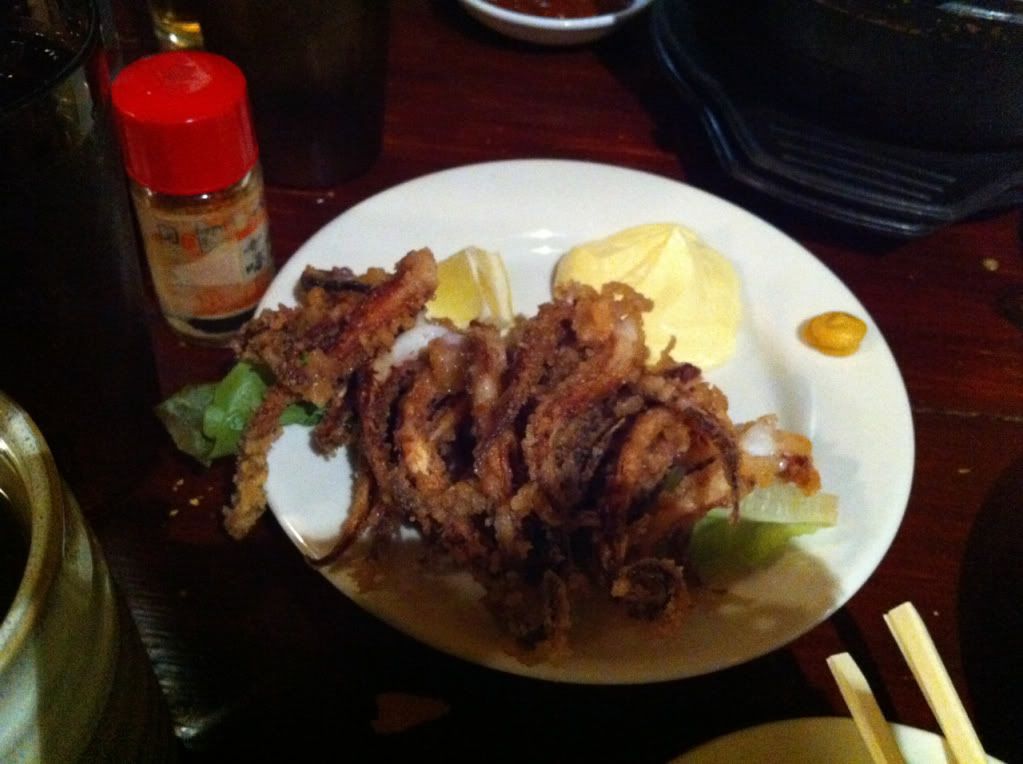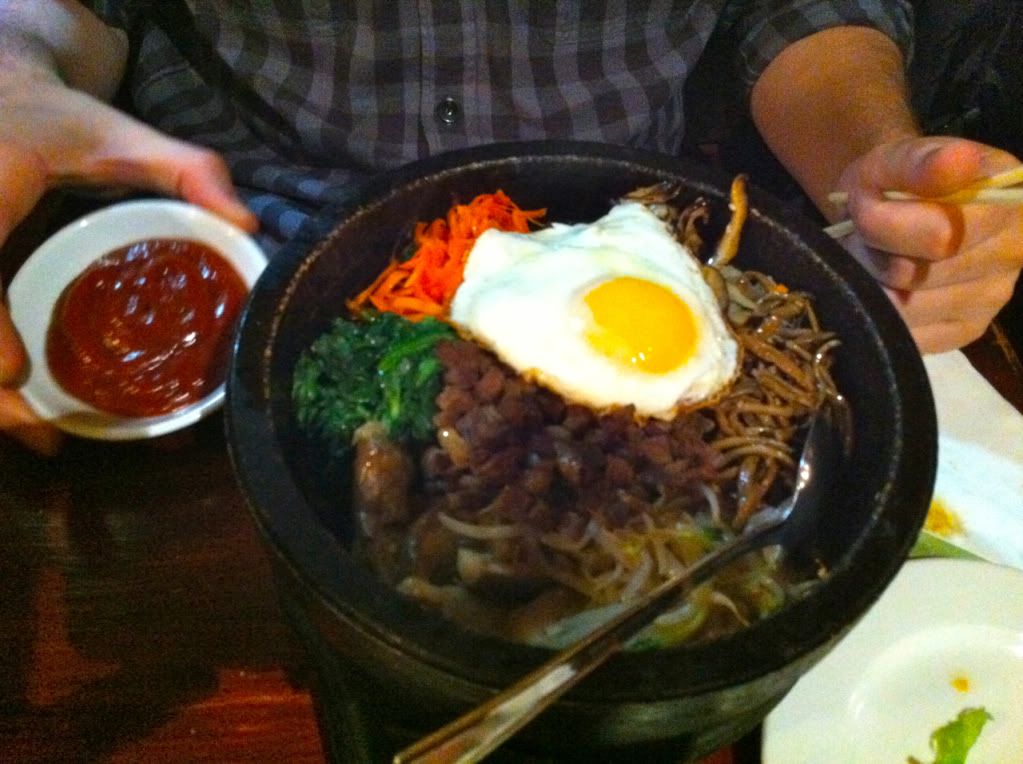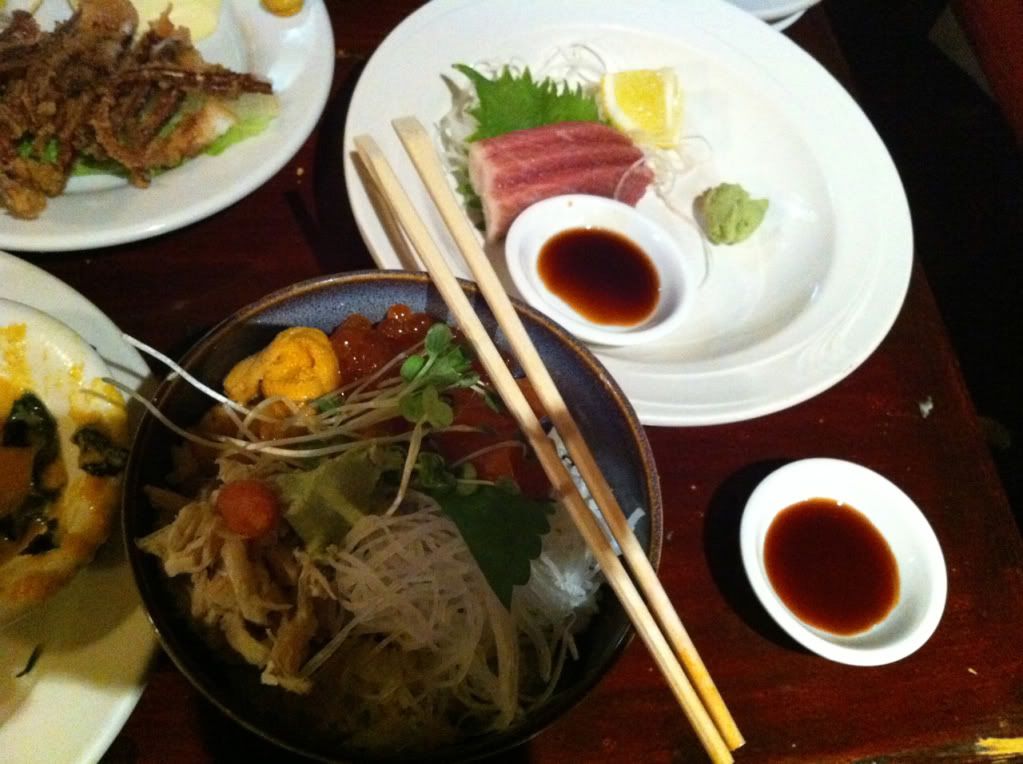 You know when you go out to dinner in the suburbs and "going out to eat" is like, the thing you straighten your hair for and what your night's plans consist of and then you just go home after and plop and watch a movie on TV? Granted, I am a geriatric lady in waiting, so stuffing my face with two days worth of calories is always an event, but trekking back to enjoy the Korean-Japanese mania that is
Village Yokocho
was enough to make my Friday night about seven (thousand) times better than standing around a bar waiting for someone to say they're tired so everyone can peel off and go back home.
Fried squid legs with mayo, bibimbop in a hot pot, super fatty blue fun tuna belly, seaweed salad and a mini chirashi bowl with sea urchin, salmon and salmon roe that costs $9 and
literally does not make sense to me for that price
was more than enough. And then there was ice cream and mochi. Gotta make up for skipping those muddled cocktail calories somehow.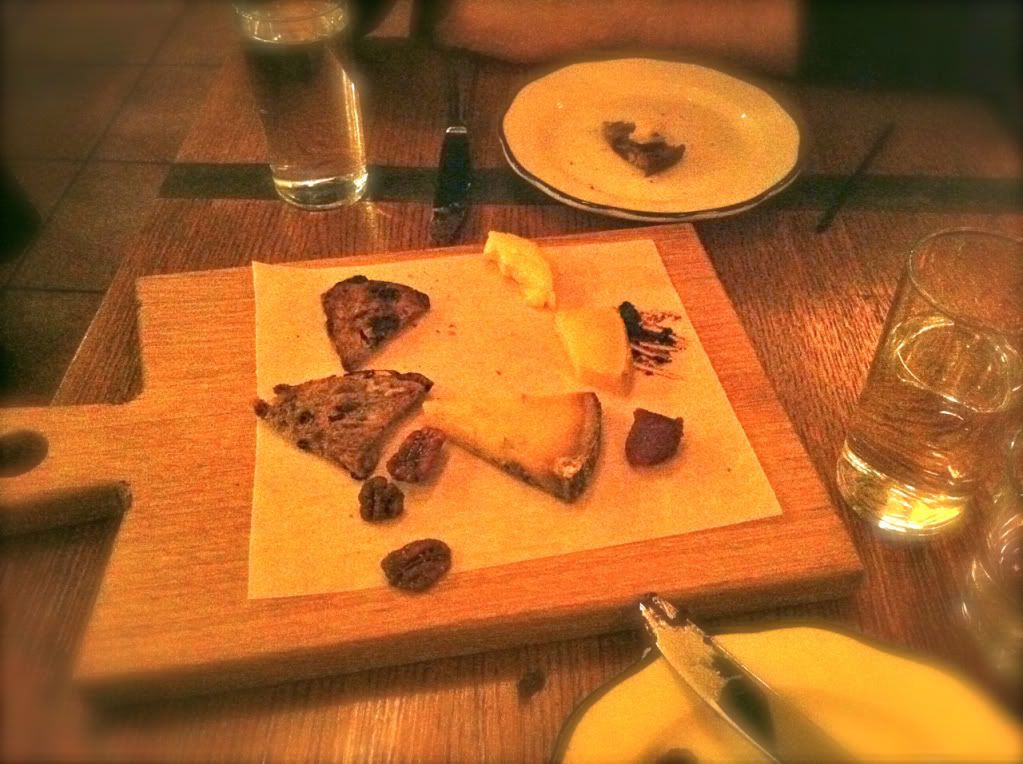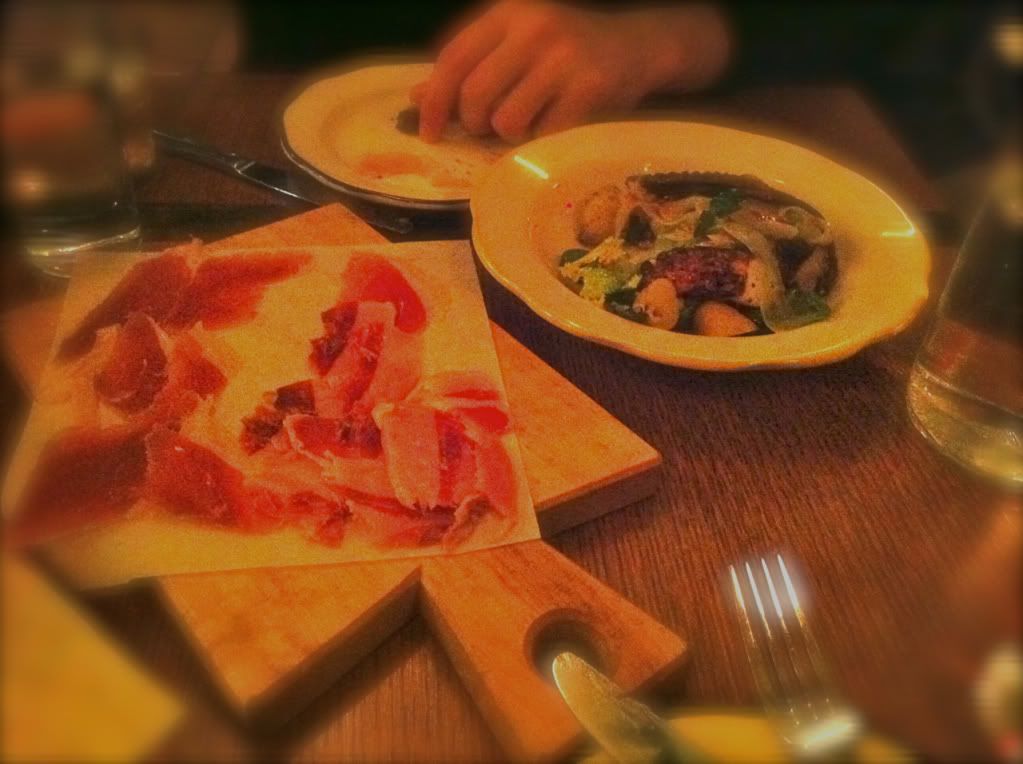 Finally went to
Tertulia
for the valiant effort of just getting glass of wine and tapas, which inevitably turned into a full-fledged dinner barely four hours after a lengthy lunch at
Extra Virgin
. I can't face Chase Bank or any of its online applications for the next week after the damage I did this weekend by way of my esophagus and haphazard pile of bills and plastic I call a wallet, but when there's acorn-fed jamon on a menu, you man up and you eat it like the king of the food chain you are. Or, the horrible jew you've always been. either/or.
I went to Doma coffee shop on a saturday night like a sober sister and it actually was pretty rad, until I lost at Scrabble and then at Battleship and then made game time cease immediately.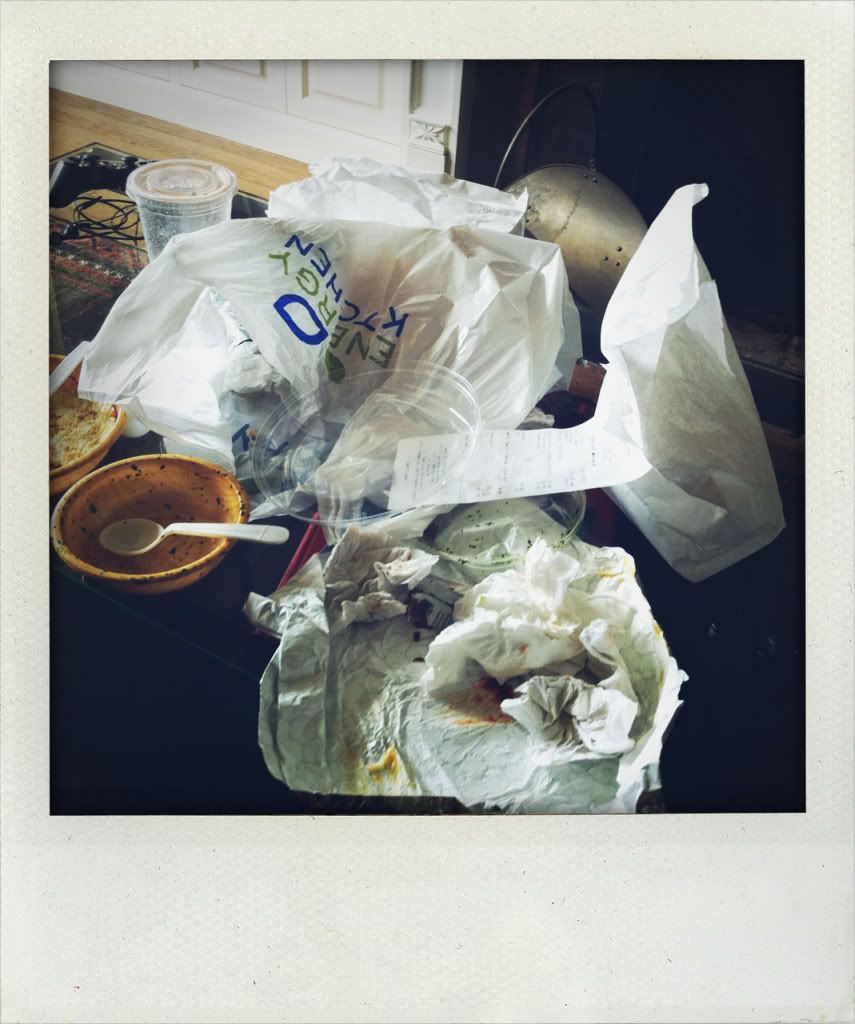 It's about time I set up a house account with
Energy Kitchen
, or just fucking buy my own egg whites already.