Considering I was halfway nauseous all night, waited an hour and a half for two high seats at a communal table at 10pm without caring and had even eaten brunch there before, nothing had really stacked up to make Saturday night's meal at
Gjelina
mind-blowing. But, holy late-night overeating groaning, it was.
First off: waiter? amazing. Not even going to get into it because befriending strangers makes no sense, and sometimes it happens, and it's great, and that's where that story should end.
Secondly: the food. I mean, i hadn't been this uncomfortable looking at an expansive menu since catching a glimpse at
Kool Bloo
on Seamless while sober: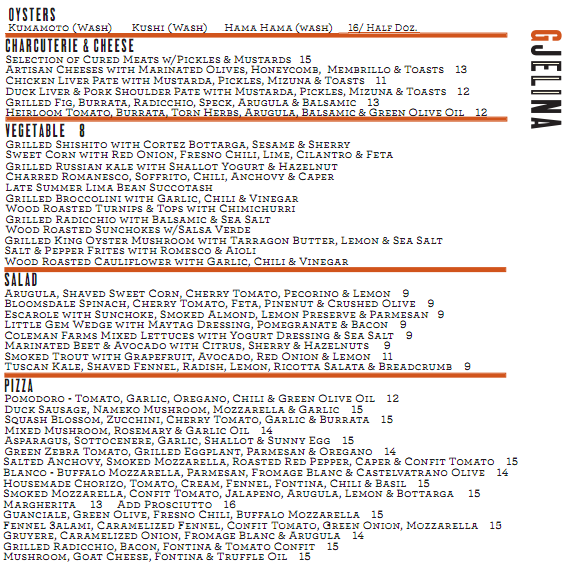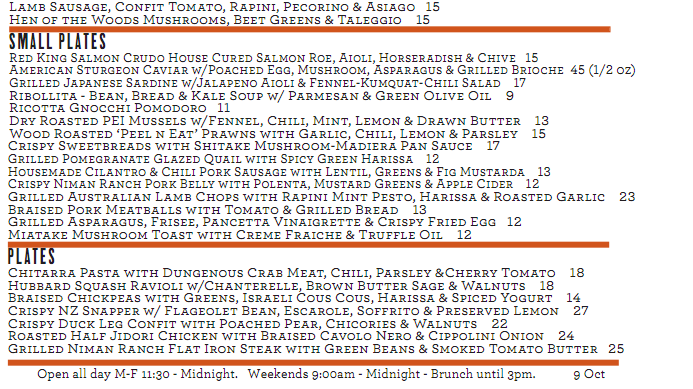 There's just no way someone could make this many things well. There's just no way.
And somehow, THERE'S A WAY.
Our order:
Wood Roasted Cauliflower With Garlic, Chili and Vinegar
Bloomsdale Spinach, Cherry Tomato, Feta, Pinenut & Crushed Olive Salad
Guanciale, Green Olive, Fresno Chile, Buffalo Mozzarella Pizza
Wood Roasted 'Peel N Eat' Prawns with Garlic, Chili, Lemon and Parsley
Grilled Australian Lamb Chops with Rapini Mint Pesto, Harissa & Roasted Garlic
Miatake Mushroom Toast with Creme Fraiche & Truffle Oil
As I learned for the second time at this meal, the way to my heart is not through any object entering my stomach — it's through someone taking the shell of what you just ate, deep frying it and bringing it back for you to enjoy again. The only other place I've experienced this was at
Blue Ribbon Sushi
, where they deep-fry the skeleton of the fish used for your Omakase and bring it back to you to eat, bones and all. With prawn heads, though, it's an easier, tastier game, and even more entertaining when the pre-eaten critters get plunked down in front of your pasta-and-pizza eating neighbors who look as grossed out as kids when they're told at a Halloween fair that the gooey grapes they're touching inside a bag are zombie eyeballs.
Besides that, the only thing that I can say is that everything was simply great. The salad? Great! The mushroom toast? Oh, so great. The pork cheek pizza? Ugh, great. And the butterscotch pot dessert that we so very much did not need and lead to our early alcohol-free Saturday night hay-hitting demise? Oof. Great. No weak link appetizer, no disappointing entree, nothing. Just, eat here, And enjoy.